Shan
"Our company had Mike drive our client's VIPs around Melbourne in his amazing Caddy during a major event we were involved in.
It was the highlight for all involved. They still talk about it 6 months after the event!
Shan Railton – www.vantagemanagement.com.au ."
Veronica
"Dear Michael – Thankyou so much for being such a great driver and helping me out so much on my entry into the ceremony.
I appreciate what you did so much and you went out of your way to make it special and make me feel at ease.
Thanks Veronica – Scoresby"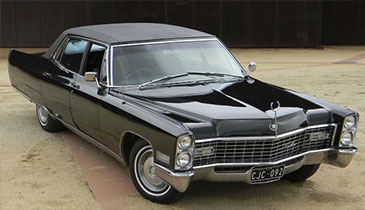 Frank Bell
"Michael- What a wild ride man! Thanks so much for taking the time to give me and Noel a spin in your cherry Caddy.
That unit is about as clean as I've ever seen, even in the US of A!
Frank Bell -Ashton, Idaho – "
The best experience of Melbourne!
Cadillac Dreams provide Melbourne's high quality Chauffeur driven classic Cadillac cars.
Absolutely gob smacked, is the only way I can describe my experience. If you want to get up close & personal with the real Melbourne then this is the best way to do it. Driving in an open topped classic car generated interest wherever we went; people just came up & started talking to us whenever we stopped. I saw a side of Melbourne I never knew existed. I will be reliving my memories of the experience for many years to come. Do yourself a favour & try it, you won't be sorry.
Cheers Kenneth Findlay – Melbourne.